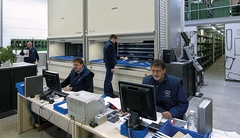 The good news is that today's cars and trucks are more reliable than ever before. What's more, a mechanic's ability to diagnose a problem and fix it has improved along with the advanced technology that keeps our vehicles on the road. But there is also this reality – without an efficient auto parts storage system, breakdowns in automobile service can still happen. In fact, the parts department and service department are vital links to the customer driven (and financial) success of any automobile dealership or mechanic.
When you think about it, there are several challenges that parts departments and service departments face, from lack of space to high inventory costs to missing tools or parts. Issues of space and efficiency are common with most storage problems that we encounter, but they can manifest in different ways depending on the application. For instance, in the automobile/truck dealership and mechanic environment lack of space can mean cramped work areas or it can mean that not all parts are stored on site. Lack of space can also affect dealership growth plans – there are costs involved with adding more service bays or expanding a customer waiting area. Efficiency and productivity issues can cause major problems with customer satisfaction by increasing customer wait times. They can also negatively impact the bottom line by leading to missing parts or tools and higher inventory costs.
There are three primary fixes for auto part storage challenges, and they all address the concerns of space and productivity and can be combined to create the ideal storage environment.
– Static Storage Systems
– Mobile Storage Systems
– Automated Vertical Storage Systems
Let's take a quick look under the hood of all three.
Static storage options include shelving, racks, and modular drawer systems, and can house a variety of parts from large items like tires, bumpers, batteries and bulk fluids to small items like fuses, gaskets, and lamps. The shelving and rack systems can be used in mezzanine systems as needed to save floor space. The modular drawer cabinets can also be stacked, but the real high-capacity storage impact comes from the versatility of the drawers. Using the "Building Block" approach, compartments are created within the drawers to fit any sized part or tool. They can be reconfigured as new parts are introduced or other needs change. This approach also boosts productivity in several ways, including quick access to parts and tools, easier inventory monitoring and more immediate restocking.
Mobile storage (or high-density storage) can be described in a couple of ways. Shelving and cabinets are mounted on carriages, which move side-to-side on track. The mobility of these carriages eliminates the need for multiple access aisles to save space. The other option for creating mobile storage is to mount modular drawer cabinets on wheels or casters. Both ways increase storage capacity and could save up to 50% of your floor space. Having industrial shelving or racks on mobile carriages provides the opportunity to organize the stored items by both size and usage, which allows for quicker access to the more active parts. In addition to the productivity gains from modular drawer cabinets mentioned above, having these cabinets on wheels allows the toolbox to go with the mechanic from bay to bay, so the tools and parts are always close at hand.
There are two primary types of Automated Vertical Storage systems used in parts departments and workshops – Vertical Carousels and Vertical Lifts. These automated retrieval units help save space by utilizing available ceiling heights to increase storage capacity by up to 60%. Not only does this create an opportunity to store more inventory or use the saved space for other uses, but also ergonomics, inventory control and stock security all get a boost. These units bring the "goods to the user" so the folks in the parts department or garage can spend less time looking for parts and tools and more time maintaining and fixing vehicles.
Maintenance is essential to extending the life of a vehicle, but even a well-maintained car can breakdown out on the road. That doesn't mean breakdowns have to happen in the parts and service department. The proper storage system can save dealerships and garages time and money, but more than that they can help elevate the always-important CSI (Customer Service Index), so customers remain happy and keep coming back.