FSS specializes in high quality, secure and affordable museum storage solutions to help the preservation of your valuable artifacts.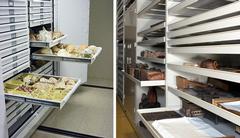 Our knowledge of the specialized requirements of museum storage will ensure that your limited space is maximized while minimizing your investment.
A growing collection requires proper storage planning for optimal flexibility. Our technical experts will design storage to meet your museum storage needs and provide extra space both now and in the future.
FSS provides expert product knowledge, dependable service and responsive support while creating a storage system to meet your exact needs.
Our museum products are high quality, secure and affordable and are all manufactured with our non off-gassing powder coat finish. Depend on FSS to design and deliver all your museum and preservation storage needs: Vertebrate Cabinets, Geology Cabinets, Herbarium Cabinets, Botany Cabinets and more.