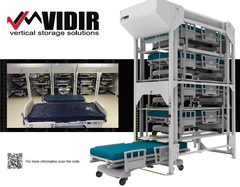 The Vidir Hospital Bedlift is a cost effective hospital bed storage system
designed to store hospital beds off of the floor and stack them securely
in a vertical arrangement. This not only saves valuable floor space but
removes potential fire hazards from hospital corridors. This hospital bed
storage rack will increase the hospitals storage capacity, organization, and
product flow; reducing down time, which increases the number of beds
available for patient use at any given moment.

• Capacity for up to 5 hospital beds per Bedlift
• Reduces hallways 'clutter' to address NFPA
101 – Life Safety Code.
• Saves up to 70% of floor space per unit
• Beds are easily accessible reducing required
time to retrieve hospital beds.
• Provides a safe and dedicated storage
location for beds that can cost as much as
$40,000.00
• Easy to use - semi-automatic system lowers
and raises beds at the push of a button.