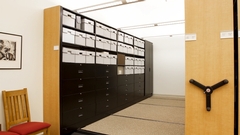 As society moves more and more towards using digital documents, for practical or legal reasons it is still necessary for a financial institution to file and maintain physical archives. Unlike online systems, these hard copies still require a mobile or built-in storage solution for folders and files, bookkeeping records, boxes and reference material.
Storing and organizing all sorts of documents is a challenge for any financial institution. Approach the situation the same way you would handle a client's finances: by looking for the best return on investment. In addition to cost, there are two criteria that should be taken into consideration when selecting mobile or built-in storage units:
Maximizing the capacity of your storage space
Simplifying how to find stored documents

Maximize storage space

The first benefit of a mobile or built-in storage system is how it provides a financial institution with the chance to increase its storage capacity. Using the same surface area, a good system will increase your filing and archiving space by 50 %. A whole range of options is available to meet your needs, including cabinets, filing units, as well as powered moveable or mechanical assist shelving.

The financial sector, like your business, is always evolving. Mobile or built-in storage systems for files are versatile and adapt with your changing needs. In fact, with a good modular system, re-organizing your storage space will be a breeze!

Simplify the search for stored documents

Filing documents may seem like a routine obligation that doesn't provide any kind of quick return on investment. However, studies show that having a well-thought-out filing system is essential to any business' success and, when done right, it ensures that clients are receiving the very best service possible. There are certainly many benefits to keeping files ordered, accessible and in good condition!

An organized system for storing financial files means saving time, which leads to better quality work as well as an efficient way to access and share information. A well-planned mobile or built-in storage system will also allow your financial institution to provide the best service for clients, and to maintain archives that guarantee their privacy.