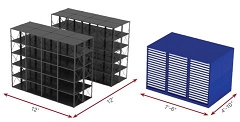 Why Modular Drawers?
The perfect solution for the efficient storage of your small to mid-size products. Modular Drawer Cabinets from Borroughs can pay for themselves by reducing your storage footprint by 60%, cutting parts retrieval times in half, improving parts organization, and adding security for increased loss prevention.
Advantages of Modular Drawers
Modular Drawers are built in various sizes which allow multiple storage options. This results in minimizing the amount of floor space dedicated to the storage of small to mid-size products/parts. Below are some key benefits of modular drawer cabinets.
Space Saving – Efficiency – Flexibility – Accessibility – Organization – Security – Safety