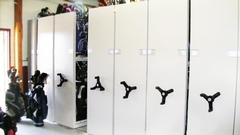 Tee Up Optimal Storage for Your Golf Course with Montel's Leading-Edge, High-Density Storage Systems Adaptable to All Clubs, Bags and Equipment
Golf is a game where the smallest detail can make the difference between hitting the green and slicing a ball into the rough. That's why players spend years precisely honing their stance and swing. At FSS, we have spent years refining our storage systems because we believe in applying the same exact attention to detail. As a result, our mobile and stationary products are the hole-in-one solution for racking and shelving golf gear and rental equipment, from clubs to bags to towels.
Simply put, our comprehensive range of industry-benchmark storage systems is the best in the field. From large-scale rolling carriages to compact shelves and cabinets, all have been meticulously developed to combine versatility and intelligent use of space. As a result, they can be customized to suit your golf course's specific storage needs, such as rental equipment storage.
Whether your course is private or public, PGA-caliber professional links or nine-hole par-three round, our stationary and rolling storage and racking solutions can be tailored to handle all your equipment. Our high-performance, high-density systems can handle bags, clubs, towels, boxes of balls and tees, and much more. And, of course, the storage possibilities are not limited to equipment and accessories used on the course; we also have an unbeatable selection of shelving and cabinets for other storage items, such as supplies and filing in the clubhouse office.
FSS' systems are the runaway tournament leader when it comes to high-density shelving and racking of sports equipment. Tee them up at your golf course to optimize storage of clubs, bags and towels—and help your players get their round off to a good start before they've even set foot on the links.