When was the last time you thought about how you shelve?
Every business, commercial or industrial, does it – but do you shelve as well as you could or should? And if not, what are you missing out on by avoiding the problem?
A change to mobile shelving can make a big difference to all sorts of businesses, whether you're looking to shrink your storage footprint, expand it or simply do more with it.
Are you an Optimizer?
Is your storage occupying more cubic footage than you expected it to? With the wrong layout and static shelving, even businesses with minimal storage needs are susceptible to wasted space and high inventory management costs.
Mobile shelving systems optimize the area devoted to storage, freeing up new possibilities. What can you do with the space you save by installing customizable mobile storage solutions in their warehouse or stockroom?
For one, you can just leave it empty. After all, mobile storage modules condense the same volume of goods into an area 50 percent smaller than with static shelving. That level of spatial efficiency saves you immediately, especially if you were planning to expand your properties, relocate or invest in off-site storage facilities because of your chronic storage issues.
Moreover, mobile shelving reduces recurring costs associated with per-square-foot refrigerated storage. According to investment management firm JLL, cold storage facilities cost triple what conventional warehouse storage cost. Mobile storage protects from overspending for those who lease refrigerated storage units or who aim to invest capital in their own.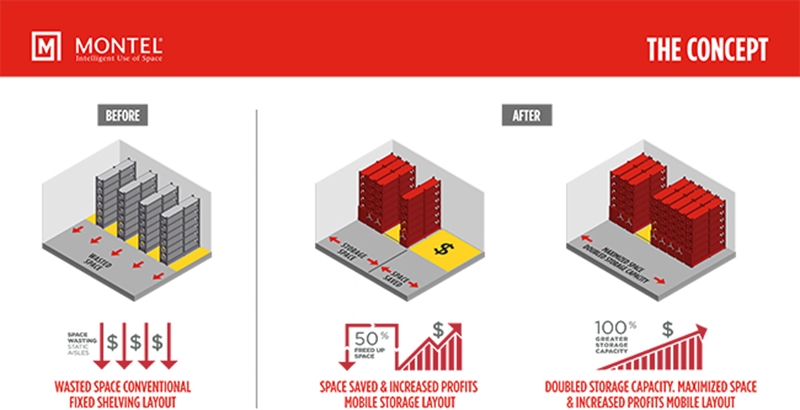 Are you a Maximizer?
On the flip side, a significant space savings of 50 percent will certainly tempt leaders to conceive of new ways to utilize areas once devoted to storage. Here are a few ways some Montel customers have used the space they saved by switching to mobile storage:
Expanded the sales floor: With a smaller storage footprint, retail businesses can grow their revenue-generating areas. Whether they choose to provide more room to mill about or a more diverse selection of goods, patrons will appreciate the improved shopping experience either way.
Added production or processing power: Industrial businesses such as manufacturing need their shop floors for far more than storing inventory and finished products. Reductions in storage open up opportunities to build a new line, for example, without overspending capital on a whole new facility.
Doubled up on storage: Warehouses are in the business of space. If they so choose, these businesses can reclaim aisles and maximize storage. Mobile shelving installations therefore give warehouses twice the capacity, twice as many vacancies to sell or utilize and twice as many SKUs to offer end users.
Whichever route you decide to take, trust that manual, mechanical-assist or powered mobile shelving solutions will propel your storage operations toward success. For more information, visit our website www.fssbusiness.com or reach out to us today.