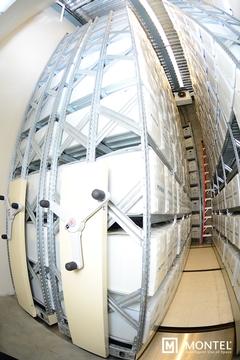 To many people, a bottle of wine sounds like a relaxing way to spend a weekend among friends, family and loved ones. To the winemakers at Williams Selyem Winery, it's that and so much more.
But don't take our word for it – in 2010, Wine Enthusiast Magazine awarded the company's 2007 Litton Estate Pinot Noir a perfect score of 100 points, making it the first North American pinot noir to earn such an honor.
So, when Williams Selyem Winery turned to an authorized Montel distributor, to outfit its wine library storage facilities with high-density mobile and static shelving installations, we had a feeling something special would come of it.
Uncorking wine storage potential with mobile installations
Originally, when the Williams Selyem Winery contracted builders to construct its wine library, the company was told the space would hold roughly 500 cases when everything was said and done. Once the contractors completed their work, Williams Selyem wine experts started housing its products in the library.
That said, the wine library storage system helps Williams Selyem Winery do much more than shelve its goods:Soon after, the company realized a storage capacity of 500 cases simply wouldn't do. It would need to increase its storage footprint without a costly expansion. After partnering with Montel and installing six 16-foot Mobilex mobile shelving modules across the wine library's two rooms – along with freestanding racks along that back walls – Williams Selyem effectively quadrupled its storage potential to 2,000 cases, give or take a few dozen boxes of Magnum bottles.
Beyond simple storage
Like traditional libraries, Williams Selyem Winery wine library serves a purpose beyond simple storage. Batches stored therein require frequent testing to determine whether they are mature enough for sale. Williams Selyem wine specialists need room to pull designated batches from the shelves and taste them. With that in mind, the space cannot be cramped or completely devoted to storage. Luckily, because of the collapsible Mobilex mobile shelving units, Williams Selyem staff can open and close aisles to give themselves enough space to freely move about the wine library at their leisure.
Save costs on temperature-controlled space
Wine libraries must be kept at an even temperature using heating, ventilation and air conditioning systems specifically designed to create an ideal environment. While these HVAC systems preserve the wine well, they do increase energy costs for the user as they must run constantly. Expanding the square footage of the library to make room for more storage would have not only cost a bundle in construction, but also raised the recurring energy costs for the winery. Instead, Williams Selyem trusted mobile shelving to grow its storage capabilities without increasing its energy consumption.
Last but not least, we'd like to personally thank Williams Selyem Winery for its patronage.