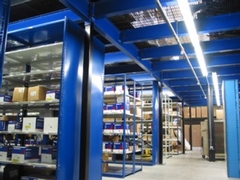 Today's rapid and changing competitive environment demands smart business solutions. Solutions that provide economical alternatives. Solutions that help reduce operating costs.

Borroughs Freestanding Mezzanines are a proven smart solution. They expand your business, not your building, maximizing use of your expensive floor space to provide needed production, assembly, office or storage areas for growth.

Borroughs Freestanding Mezzanines use wasted or often ignored vertical space...and can double, or even triple the usable square footage of your existing facility.
Together with Borroughs, FSS can provide expert advice and assistance in designing and installing multi-level systems. Using Configura®, they have the ability to generate 3-D drawings and plan views which provide enhanced visualization of your system. They can create a unique system that will deliver the maximum amount of storage space for every dollar you invest. They can also provide optional accessories including lifts, conveyors, pallet jacks and other items to make storage and retrieval of your parts faster and easier.