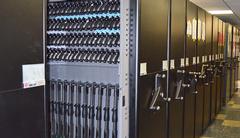 Let's continue our investigation of public safety storage challenges and see if we can crack the case.
Secure Storage for Uniforms and Gear
To protect and serve is a fundamental concept in Public Safety, and when discussing law enforcement storage, protection cannot be over-stated. In addition to evidence, law enforcement agencies house many other items that need to be protected. Take for instance police officers; they need to store their gear, uniforms, clothing, shoes, boots and personal items. Police lockers are there to ensure all of this remains organized and secure.
These tactical lockers are built tough, lockable and ventilated to keep things fresh. The lockers are modular and can be configured in multiple ways, using various accessories, to meet any gear storage needs, including:
• Sheriff's Offices
• Police Precincts
• University Public Safety Departments
• SWAT Teams
• Fire Departments
• Emergency Medical Services
Secure Storage for Weapons
It is also critical to keep long guns and small arms locked up and out of the wrong hands. Weapons storage cabinets answer the call. These weapons racks, lockers and cabinets are designed to secure firearms as well as help maintain their condition. They provide the flexibility required for storing weapons vertically or horizontally, and their compact footprint ensures that they won't require too much floor space. Multiple configurations create storage space for:
• Rifles
• Shotguns
• Handguns
• Optics
• Scopes
• Gear Bags
Secure Storage for Everything Else
What about the law enforcement items that don't necessarily fit or belong in cabinets or lockers, but still need to be locked down and secured? Or standards and regulations that require things are kept behind two locks. In those instances, it is best to protect a whole area of a building and all of the contents that belong within that area. This task can be accomplished with wire storage enclosures. Modular wire partitions can go from floor to ceiling (or when necessary create a ceiling) to create compounds for evidence storage, narcotics storage and weapons storage. Magnetic locks and electronic strikes secure doors and make entry impossible for people without proper permission.
For instances when suspects need to be detained, temporary holding cells are designed and built in the same manner, and the modular components allow the cells to be moved or reconfigured as needed.
Sometimes "Law and Order" (and other crime dramas) make police work look easier than it is, but obtaining justice is a difficult task. From short-term and long-term evidence storage to uniform and gear storage to weapons and narcotics storage to locking up the bad guys, there is much to consider when addressing law enforcement storage needs.
Contact FSS today to find out how we can create storage systems and spaces that are secure, reliable, compliant and convenient.