Healthcare construction is on the rise in 2015, and there are many critical decisions involved when renovating or building new facilities.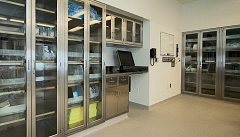 These elements include patient experience, controlling HAI's (Healthcare Associated Infections) and selecting healthcare storage products. There is a connection with these considerations, which reminds me of my last trip to a physician's office. Have you ever been to the doctor's office for a physical, or maybe your child's checkup, and you go in feeling fine, but a few days later you come down with something? Luckily it hasn't happened to me, but I always find myself reaching for the hand sanitizer as soon as I walk out the door. There is a common concern about germs when we go to a healthcare facility or hospital. So it is no surprise that cleanliness is at the top of the priority list when healthcare officials make choices about furniture, storage and finishes.
I read an article last week on Healthcare Sales 101 called A Great Checklist for Healthcare Furniture. In describing the checklist, the author notes: "For the hospital looking for a furniture solution for their facility, the choice can be daunting and at times seems very subjective. This checklist creates a methodology for evaluating the options, as well as a method to objectively look at each solution. The checklist creates clear criteria for comparing each proposed furniture solution." The checklist, written by Eileen B. Malone and Barbara A. Dellinger.
According to Malone: "In the past quarter century, the healthcare industry has begun to embrace a growing body of work that examined the relationship between the physical environment, human responses and consequent healthcare outcomes. Evidence-based design (EBD) – or the process of basing decisions about the built environment on credible research to achieve the best possible outcomes – is being used by a growing field of healthcare architects, practitioners, researchers and administrators to better understand the impacts of the healthcare environment on healthcare outcomes, including patient safety outcomes." And what is number 1 on the checklist? "Reduce surface contamination linked to healthcare associated infections." No wonder that is always top of mind for healthcare facility decision makers.
One way to combat potential contamination issues in healthcare facilities is stainless steel cabinets and surfaces. There are several reasons why stainless steel storage cabinets make sense for hospitals and physician's offices, and chief among them is how simple they are to keep clean. Stainless steel can hold up to almost any chemicals or cleaning solutions used in the sanitizing process. It can be cleaned multiple times a day without harming the surface. It will hold up to any scrubbing, and for a hospital, where the surfaces require consistent cleaning that often involves harsh chemicals, that's a positive thing. Stainless Steel cabinets can also include locks, so valuable medical equipment and narcotics can be locked up and kept secured. It's also difficult to beat the ease of use of these cabinets. They are easy to install, require little maintenance, won't warp and won't need to be re-faced or painted.
In addition to modular cabinets, there are several other medical storage applications and products that are available in stainless steel, including:
While you may still find yourself reaching for the hand sanitizer when you leave the doctor's office, here is one thing to keep in mind. Healthcare facility decision makers are diligently working on improving your experience, the outcome you receive and putting an end to HAIs. Stainless steel storage products and surfaces are on the job to help make this possible.