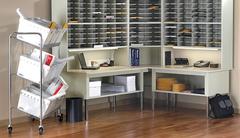 Just because the Pony Express doesn't ride anymore doesn't mean there's still not mail to deliver. In fact, despite the increased use of email and texting, physical mail delivery (snail mail) is still going strong — and that means you need efficient mailroom storage and organization solutions.
Due to certain laws and regulations, there remain documents still managed in paper form, not to mention that mail delivery remains the best way to send and receive 3-dimensional objects. As such, businesses, universities, military bases and other organizations still count on properly designed and well-run mail centers to stay organized and productive. And when you start thinking about storage and organization of information, then it makes sense to start where that information enters your office – the mailroom.
Maximizing the productivity of your mail center and shipping area is key to the overall efficiency of the whole company. There are several things to consider when creating these spaces.
The Proper Mailroom Plan:
Before you start evaluating equipment, it's best to take a good inventory of your current situation. What size space will you be operating? What are the primary goals of the mail and shipping areas? How many employees will you be servicing? Do you have existing equipment that you could use, or re-purpose in another department?
The Proper Mailroom Location:
Often companies tuck their mailroom out of the way, perhaps in the back of the office or somewhere in the basement. A better option is to place it in a central location, easy for employees to access. A centrally located mailroom also provides an extra incentive to make the area look nice, and keep it organized. Your employees will appreciate being able to get to their mail faster.
The Proper Shipping and Receiving Location:
In addition to the area where employees retrieve their parcels, you should also consider a shipping and receiving center. Look for nearby dock or door access to limit disruption throughout the rest of the office and improve the flow of packages moving in and out.
The Proper Mailroom Layout:
Where you place consoles, seating, postal equipment, scales, and sorters can be crucial for the productive receipt, distribution and shipping of letters and packages. Pay particular attention to the workflow and movement of the mail, and feel free to contact our mailroom experts should you need additional help with the layout.
The Proper Mailroom Equipment:
Many aspects of mail processing are repetitive and are ripe for errors in sorting and distribution. Specialized mailroom furniture can go a long way towards ensuring your staff operates at peak efficiency during even the busiest of times. Mailing equipment and tables must be robust to stand up to constant activity, and be able to withstand heavy payloads. To meet ergonomic concerns, look for tables with adjustable heights, and make sure tabletops have edge-banding to limit the potential of injury, torn clothing or damaged carts and equipment.
Also make allowance for the shape and size of the incoming mail. Is it all the same? Probably not. Avoid shelving with static shelves and instead use mailflow sort modules with adjustable shelves so you can create the right pitch between shelves to meet each employee's unique needs.
Similar to mailroom consoles and tables, look for mailroom shipping stations that are built-tough and support your scale type. Also consider their modularity – would you need to reconfigure individual pieces as your needs change?
Use metal storage cabinets and shelving for storing boxes, packing and shipping materials, and use cabinets to conceal trash and recycling bins. Mailroom carts with heavy-duty casters make sure that parcels get to where they need to go.
Your mailroom is still essential to your business success, and we can help you keep it organized and looking good. Take the time to assess your mail distribution, shipping and delivery needs and let us know how we can help.
Trivia Time!
Did you know the Pony Express started delivering mail, packages, newspapers and messages in 1860?
Did you know the Pony Express route was over 1,900 miles and stretched from Missouri to California?
Did you know that William Cody (aka Buffalo Bill) was a Pony Express Rider?
Now you do!