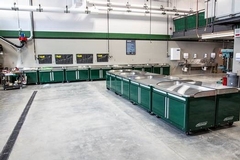 FSS Business Systems supplies a wide range of industrial workbenches and heavy-duty equipment for your service department and maintenance areas.
With over 200 sizes and styles of shop equipment and industrial workbenches available, we know how important it is for your service department to be quick and efficient. Let our tech benches and storage units help improve your productivity.
It seems like a simple enough thing, but well-designed work benches can make your plant, warehouse or factory more efficient and therefore, more profitable.
CALL FOR A FREE QUOTE: 1-800-549-7374