Acura dealership goes mobile with Montel storage racks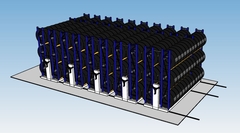 The unique mixture of form and function required to store tires in a way that is both organized and attractive felt like a daunting challenge for the Acura car dealership. A bustling dealership with limited space, Manager of Fixed Operations Kevin Duval knew that, for the business to grow as quickly as it could, static racks for storing tires simply wasn't going to cut it.
Tires: The key to retention
Tires are a key element at any dealership: A dealer needs to, at a moment's notice, swap a leaking or bald tire for a new one that matches the vehicle specs. This, according to Duval, is actually a key aspect of customer retention. While characterized as a low gross profit margin item compared to other labor services, they represent an opportunity to provide a service and reinforce the customer relationship. According to DataClover, 75 percent of consumers purchase tires from the first person that recommends they need them, and 78 percent of consumers have additional ongoing maintenance done where they buy tires. Yet, as David Boyle, president of Tire Profiles – a company that sells TreadSpec and Groove Glove, two diagnostic devices that use laser technology to read tire treads, told Automotive News, consumers often don't think of the place they bought their car when they need tires.
"One of the big reasons dealers have retention issues is, when at 30,000 miles it comes time for the first set of tires, consumers don't think of the dealers," Boyle told Automotive News. "And in many cases, the catalyst for [dealers] losing the customer was the need for tires."
This isn't an unwillingness on the part of consumers: DataClover reports that 80 percent of the consumers who buy tires from somewhere aside from their dealership would be willing to buy tires from the place they know. The problem is visibility, as only 40 percent of customers know the dealership even sells tires.
At the same time, storing tires is a serious challenge: Large, heavy and cumbersome, keeping tires off the dealership floor while still accessible to employees was key. Duval says that, prior to working with Montel, the dealership constantly found itself running out of space and struggling to stay organized, making peak operational efficiency difficult.
What did Montel build for Acura?
The setup of the dealership meant that there were two floors: an upper level where tires could be stored and a lower floor with showroom, complete with a carousel to shuttle the tires from floor to floor. Montel provided a mobile RACK&ROLL 16MA, RACK&ROLL 16P storage rack and tire storage fixture, designed to double storage capacity and limit wasted space.
"If we had installed static racks, we would have run out of space," Duval said. "Now with Montel, we can store even more tires in the same space."
The mobile racks are clean, organized and easy to operate by staff, with technicians reportedly loving the system. Offering 16,000 pounds (7.257 kg) of capacity per double rack section, with a maximum 45-foot (13.7-meter) carriage length, the shelves are perfect for keeping the heavy duty tires organized and accessible. The easy installation and ability to reconfigure the racks at will made for the perfect solution – and was an added bonus.
"I know many people in the car dealership community and I have recommended the Montel systems to all of them," Duval added.
The RACK&ROLL 16MA is available as mechanical-assist with the SafeCrank handle or as a powered version with a push of a button on a controller with the RACK&ROLL 16P. Care to see the kind of efficiency and cleanliness Acura experienced? Contact FSS Business Systems, your local Authorized Montel Distributor today!